Loofah Or Bamboo Scrub? Which Is Better?
Still using plastic loofahs? Learn how you can make the switch to Bamboo scrubs, save the environment, and up your showering game!
What is a better way to relax after a long day than taking a good ol' shower? Be it the cool refreshing water in the summers or the warm, soothing feeling in the winters. An essential part of a good shower is also a good cleanse, one that washes away your stress along with the grime and dirt.
When it comes to cleansing, we've all seen, heard, and even used loofahs. Almost everyone had a loofah in their bathroom at some point in time. Loofahs are great for exfoliation and cleansing. While these bright, colorful scrubbers are cleaning our skin, they are polluting our environment. Before we get into why synthetic loofahs are harmful, we need to know how we got here.
What Is A Loofah?
Loofa usually refers to a type of fibrous sponge that is used to lather and apply body wash or soap during the shower. There are broadly two types of loofah: one, is the synthetic loofah made out of plastic, and the other is what we call natural loofah. But the question is:
How Did The Loofah Emerge?
Luffa, also spelled as loofa, is a variety of tropical and subtropical vines in the cucumber family. This gourd plant is used as a vegetable during its earlier stages. When this same plant ripens and dries up it is used as a body scrub. The plant has been widely used in dishes as well as cleaning in certain parts of the world. While the gourd had been used for household cleaning during special occasions, it wasn't until the 1980s that the use of luffa spread worldwide.
Japan started the commercial cultivation of the luffa plant and exported it internationally. As the cleaning properties of the luffa became more and more popular, the demand rose as well. Due to the rough texture of the plant, new items like the Bathing Mitten came into being. As industries grew, the luffa started being replaced with a synthetic loofah. This synthetic alternative consisted of plastics and synthetics mixed together to form a type of looped mesh that was shaped like a fluffy ball. They can also be referred to as 'bath poufs'.
So, What's The Issue?
The synthetic loofahs or bath poufs are harmful to the environment mainly due to their components. On average, loofahs need to change every three to four months as they collect water and can develop bacteria over time. This creates a lot of waste. Thrown away synthetic loofahs are hard to biodegrade and get collected in landfills for hundreds of years. Even worse, these colorful scrubs could enter the ocean and cause harm to the lifeforms there. Many sea creatures and birds get trapped in the plastics or choke on them causing painful deaths.
In addition to this, the microfibers present in the loofahs are also known to seep into the drains and pollute the local water sources. These components are hard to filter and may enter your house water supply causing numerous health hazards.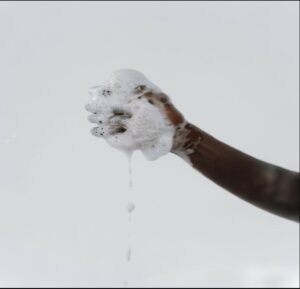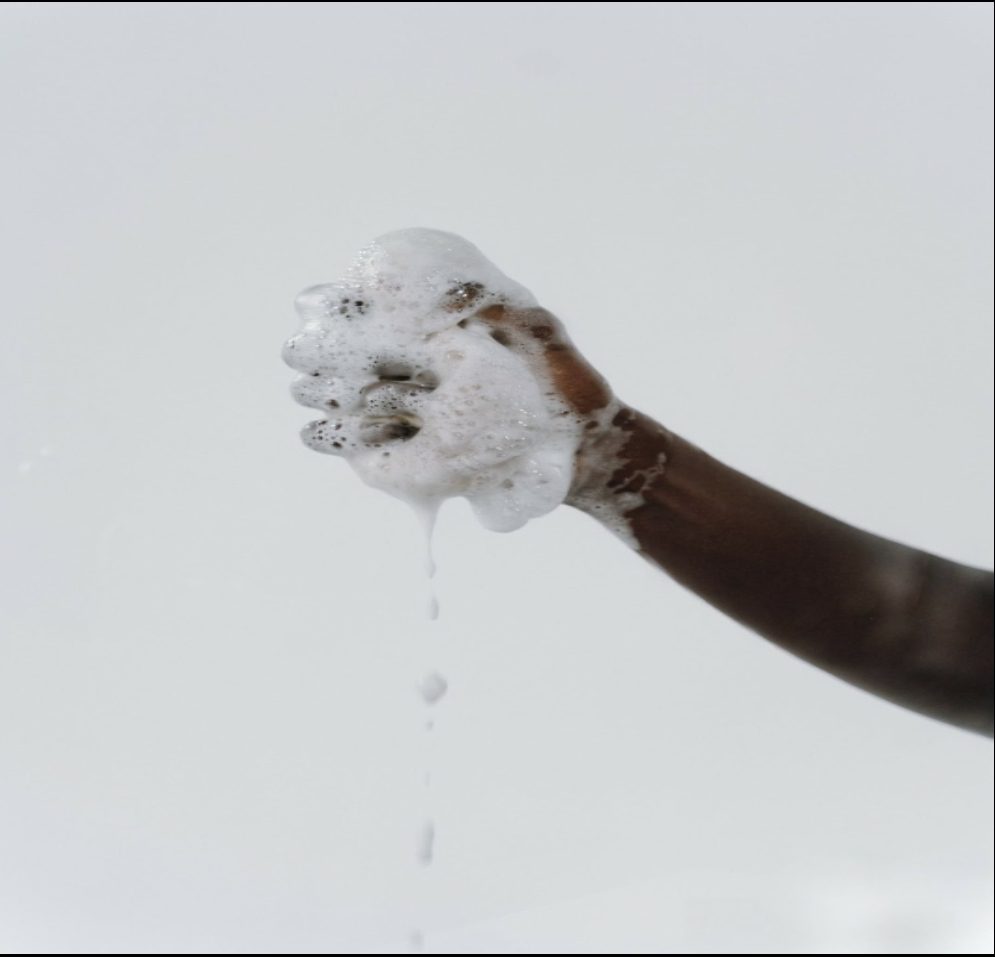 What Are The Alternatives?
Well, the answer to this is crystal clear: natural loofahs or loofah. As mentioned earlier, natural loofah is plant-based, therefore easily biodegradable and environment friendly. While they too have to be replaced every three to four months, they create less waste and don't harm the environment.
There are many variations that have come up over the years. Many companies have tried to produce products that can replace synthetic loofahs.
Brush With Bamboo
Starting off with some classics, we have the Gourd Loofah and Mayan Loofah Scrubbers by Brush With Bamboo. The first one takes after the traditional natural luffa. Instead of the entire gourd, Brush With Bamboo has hand-sized pieces that can be easily used.
Mayan Loofa is a flat bamboo scrub that can be used in the bathroom or kitchen. The product is made from the fibers of Mayan trees in Guatemala. They are unprocessed and chemical-free. At the end of their use, these products can be easily composted.
Smile Boutiques
If you want something basic but chic, then Smile Boutiques's Natural Loofah Sponges are just what you need. These are a 3-piece set of small portable sponges that are pretty easy to use. These also come with a little tag that you can hang them by.
But just in case you want to go for something more cutesy and fancier, you could go for their Kojac Sponge. These sponges come in cute shapes and vibrant colors. These are infused with charcoal, green tea, rose, aloe vera, lavender, and turmeric extracts. The materials used for both the products are vegan and biodegradable.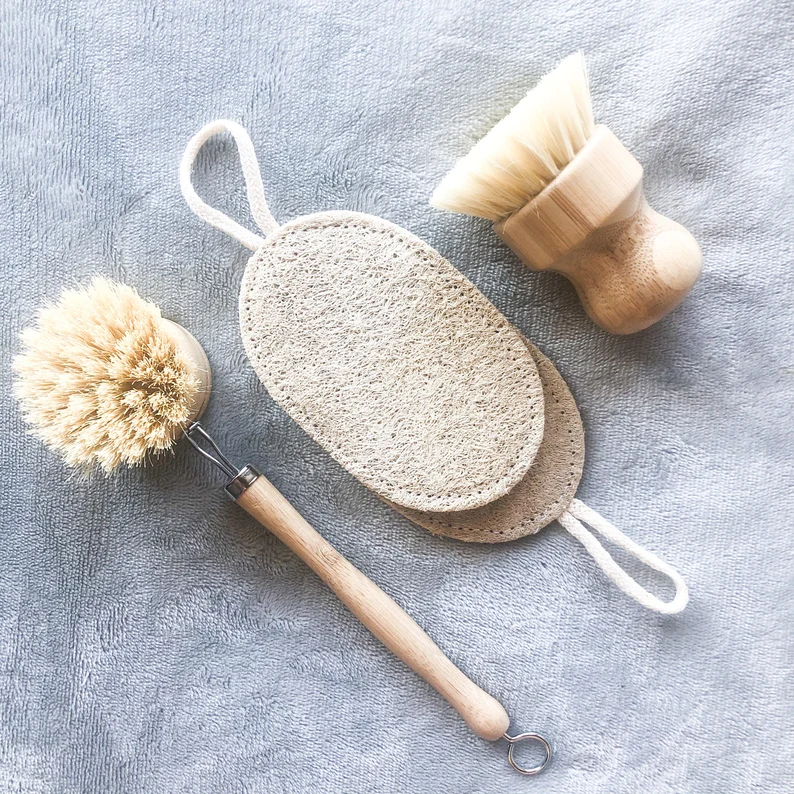 Marley's Monsters
Your body is not the only skin that you need to clean and exfoliate. It's important to get the grime and dirt out of your face too. For this, Marley's Monsters have come up with their Facial Round Scrubs. These scrubs are good for exfoliation but not abrasive enough to damage your skin. These are easy to hold and use and come in white and nude colors. These are a perfect addition to your bathroom aids to give you an overall cleanse-up.
But Why Switch?
Natural luffa or loofahs are just better.
All Natural Ingredients
These products are made from natural fibers and ingredients that make them safe for the environment. Unlike synthetic loofahs made from plastic, these are 100% compostable and biodegradable.
Affordable Alternative
While many sustainable lifestyle options can be expensive and hard to incorporate, natural loofahs are easily accessible. Since the gourd plants and natural fibers, they are made from are easy to produce and transport, the cost of these items is low.
Sustainable And Ideal
Due to these natural luffas being biodegradable, they produce less waste and are environment-friendly. They are also better for exfoliating and scrubbing as they contain no toxins that might get mixed with your water.
Why Is Being Sustainable Important?
As a part of the plant, it is essential we look after our earth and the other beings that we coexist with. Tampering with the ecological balance of the plant will only harm us. Excess pollution on land and water bodies is reducing the number of various species and increasing health hazards. It is our responsibility to reduce as much wasteful consumption as we can and make it a better place to live. Something as small as replacing your plastic loofah can be a small step towards a bigger journey of sustainability. Finding alternatives helps you not compromise your comfort as you make efforts towards a brighter future.