Beautiful hair is just a step away.
Although it may be inconvenient to spend an extra few minutes in the shower, utilizing a hair mask is essential for maintaining your tresses. They're effective treatments for dryness, frizz, damage, and a general lack of nutrients that affect your locks. Your hair type affects how often you should use one, which one is best for you, and what hair care routine you should follow. Unlike your everyday shampoo and conditioner, hair masks penetrate deeper into the hair strand and cure damaged hair.
They usually contain rich ingredients with natural oils and antioxidants in higher concentrations than conditioners. They are typically formulated to strengthen, moisturize, improve hair's condition, minimize hair breakage, smooth frizz, make hair more manageable, boost shine, and make hair feel less dry.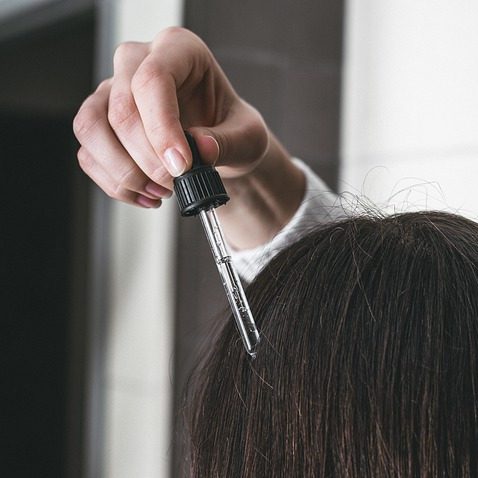 Everyone should use a hair mask even if your hair isn't colored or heat styled, it can lose moisture due to everyday wear and tear, and masks can substantially increase shine, bounce, and condition while also preventing future damage. The state of your hair determines the frequency with which you apply the mask. Masks can be applied once a month or on every wash if needed, depending on the degree of damage to the hair, hair texture, and hair density. Check out our PURC Magical Hair Mask collection below:
Our Range Of Hair Masks
PURC Magical Treatment Hair Mask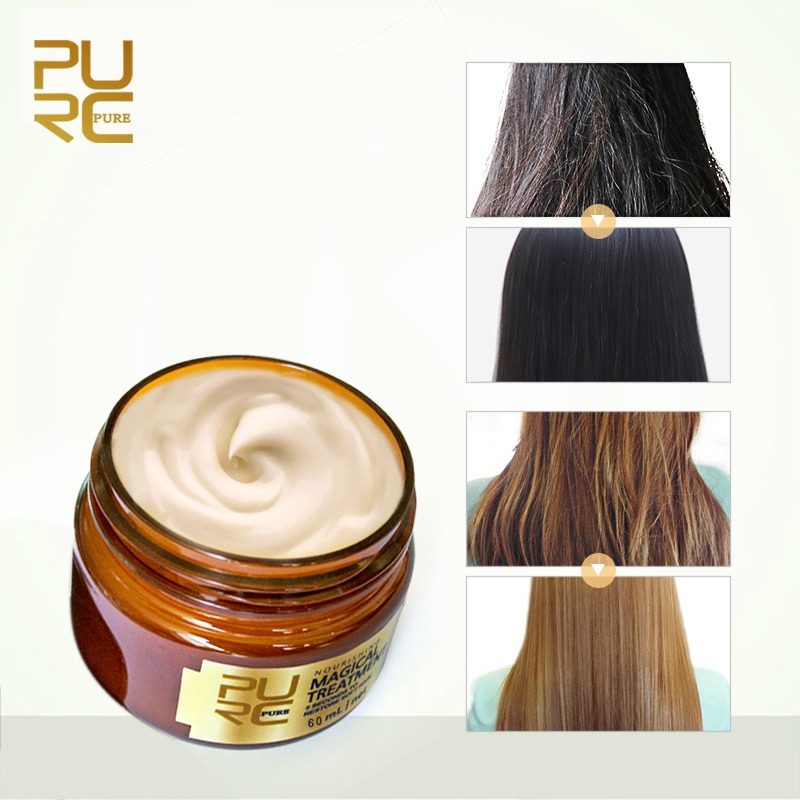 The Magical Treatment Hair Mask from PURC revitalizes dry, dull hair by adding natural shine. This beauty elixir also adds smoothness to your hair for a velvety finish. Our unique secret formula, which includes plant-based extracts, Keratin, and Argan oil, profoundly heals hair by softening the texture of your hair and creating volume. Keratin works by avoiding static accumulation by smoothing out overlapping hair cells. As a result, it keeps frizz at bay while also preventing tangles.
After using this conditioner, the hydration you get is primarily due to the argan oil and plant extracts that nourish your scalp. They're high in antioxidants and phytochemicals, which protect while moisturizing your hair. All hair types and hairstyles can benefit from our formula. It's the perfect remedy for hair that's healthy, lustrous, manageable, and soft to the touch. The PURC Magical Hair Mask is made with only the finest natural ingredients and is free of parabens, sulfates, silicones, artificial fragrances, and harsh chemicals. This conditioner is appropriate for all hair types and provides long-lasting results. To get the most out of the conditioner, you'll need to use a small amount. 
Nourishing Leave in Hair Mask
The PURC Organics Nourishing Leave-In Hair Mask is a one-of-a-kind hair mask with a long list of advantages. This is the mask to use if you want your hair to be beautiful and frizz-free as it nourishes and softens your hair from the roots up. It contains Argan oil, increases blood circulation, and provides intense conditioning to your hair. Thanks to the natural ingredients, the PURC magical mask calms your scalp and cures the damage caused by stress and environmental toxins.
The leave-in hair mask's creamy texture makes application a breeze, and it penetrates deep into your scalp to replenish your hair's essential nutrients. It smoothes rough hair texture, softens frizzy hair, and gives dull, limp hair a high gloss. The mask's effects last for a long time after you've used it. Within weeks of using the mask daily, you will see a noticeable difference. The nourishing leave-in hair mask is also cruelty-free, vegan, 100 percent organic, and has no artificial aroma, as it is made up of purely natural elements. It has been dermatologically tested and is suited for all hair types.  
Coconut Oil Deep Conditioning Hair Mask
Coconut Oil has been a well-known hair care method for years. Then how could we not include the essential ingredient in our hair mask? The Coconut Oil Deep Conditioning Hair Mask helps give your hair a new lease of life by stimulating hair follicles, promoting new hair growth by increasing blood flow to the scalp, reducing hair tension, and conditioning your hair deeply, leaving it silky and soft. Made of entirely natural components and a tried-and-true light recipe that does not weigh hair down, the PURC Coconut Mask has a smooth consistency and a creamy feel.
It is packed with powerful elements like vitamin E and fatty acids, which nourish your scalp, improve the texture of your hair, and in turn are sure to enhance your hair's health and appearance by giving it a high gloss. The coconut hair mask is cruelty-free, vegan, and 100 percent organic. Artificial aroma, harsh chemicals, parabens, and other preservatives are all absent from this coconut product. It's non-comedogenic (won't clog your pores) and suitable for all skin types. The hair mask is also excellent for persons with eczema and psoriasis due to its natural and safe ingredients. 
Volcanic Mud Hair Repair Mask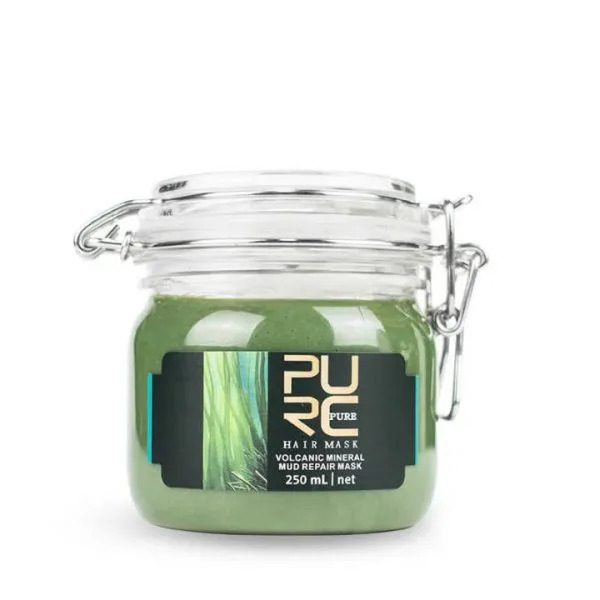 The Volcanic Mud Hair Repair Mask absorbs the richness of nature through minerals such as Magnesium, Sulfur, Iron, and many negatively charged particles abound in volcanic mud, commonly known as Bentonite clay. This luxurious clay is one of the best purifying and exfoliating agents for your scalp. Still, because volcanic mud can be drying, this mask is blended with plant extracts like Aloe vera, Chamomile, and Marigold extracts to hydrate and nourish your scalp and give you fuller hair while protecting your hair from future damage. Making the PURC mud mask rich in minerals and critical nutrients that promote healthy hair growth. It comes with many advantages that you definitely won't want to pass up!
Those with curly hair will benefit from this mask, particularly as the Bentonite clay detoxifies the scalp and aids in defining natural curls. Antimicrobial qualities in volcanic mud also keep dandruff at bay and limit the risk of bacterial infections. This allows your scalp to breathe more freely and absorb nutrients more effectively. Dermatologically verified the hair mask is suitable for people with alopecia and psoriasis.
Moroccan Argan Oil Hair Masque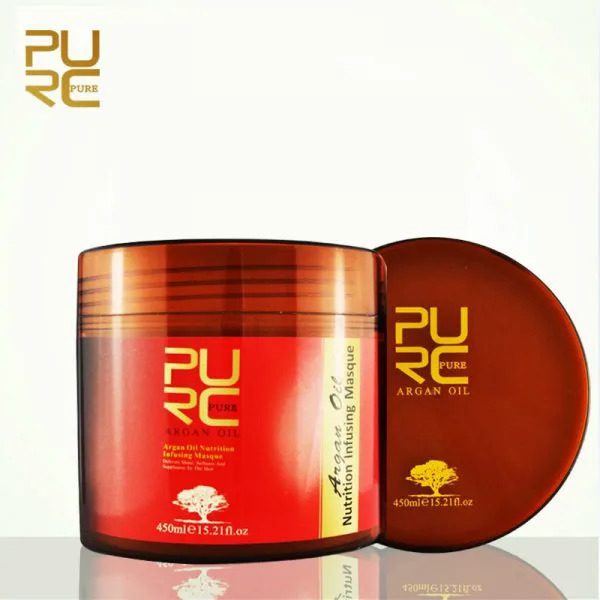 One of our favorites from the PURC hair mask range, the Moroccan Argan Oil Hair Masque, is for those looking to achieve delicateness, radiance, and long-lasting moisture protection for their hair. Vitamin E, Omega 3, and Omega 9 fatty acids are abundantly present in this argan oil-based hair mask formula. It helps repair the hair and deeply conditions it to restore softness and luster, making it simpler to manage. Start by applying a liberal amount of the mask to clean, damp hair and distribute evenly for 10 minutes before rinsing thoroughly with warm water. You can use extra or a second application on the ends for long hair, then spread evenly with a wide-toothed comb.
Pro Tips From Hair Expert:
Don't rush your masking treatment in the shower. Allow the mask to sit on your hair for the recommended amount of time to gain the full advantages of the product. Also, don't leave it on for an extended time as the hair can only absorb a certain amount of product; the longer it's kept on, it won't always provide more significant results.
To get the most out of your mask and avoid wasting it, follow the directions exactly. If the mask requires wet hair before application, make sure to follow it; otherwise, you'll use a lot more product, and your hair won't be as hydrated if you apply these to dry hair.
Consult your hairstylist before using a mask or any conditioning product on your hair if you've recently colored it or had a chemical treatment.